Map Unavailable
2017 NorCal FIRST LEGO League KickOff
Date/Time
Date(s) - 08/29/2017
5:00 pm - 7:00 pm
Location 3 Locations
see locations in individual ticket information
Join us for one of the three NorCal FIRST LEGO League Kickoff Events!  New to FIRST LEGO League – learn more
Thank you to Intel Folsom, SAIC school in SF and The Play Space in San Jose – our hosts for this year's kickoff celebration!   Not sure what will happen or what a kickoff is all about?    More info
Note that you will receive a confirmation email by the organizers no later than Monday August 28th evening.  Please plan to be parked and on site a few minutes early (but not too early) so that we can get started on time. We expect to be done with the overview plus Q&A by 7:00pm.   There must have at least one adult attending with any youth.

IMPORTANT: We do have limited space – so please do not register if you are not sure that you can attend. 
Each year we have people that just not show up – this is not only wasted time/effort/materials and could mean a lost opportunity for others that might get turned away due to space limitations.   When people don't show up, it also reflects poorly on the entire FIRST community and disrespectful of our hosts' efforts!

Finally, this kickoff event is focused and designed for the FIRST LEGO League team members. Children that are NOT on a team will likely find this event very boring and we strongly recommend that only FLL Team members and 1 or 2 of the team coaches/mentors attend.  Volunteers and other members of the FLL community are welcome to attend but this event is focused on getting the teams started off – we have other volunteer-focused activities coming up – learn more.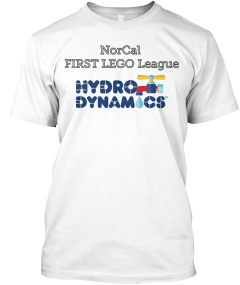 2017 NorCal FIRST LEGO League
$21.99
We partnered with Teespring to create some awesome merchandise for this event. Show your support and look good wearing it. Check it out!
Add this event to your Google calendar

Add this event to your Outlook (ics) calendar iCal
All Related Events