NorCal FLL Explore Festival – Mar 26 – UC Davis – FULL
Date/Time
Date(s) - 03/26/2023
9:00 am - 1:30 pm
Location UC Davis ARC
La Rue Avenue at Orchard Road Davis
.
Held at the same place and overlapping the Sacramento FIRST Robotics Competition Regional event at UC Davis
VISITORS/VOLUNTEERS/FAMILY – please use the standard ARC Pavilion entrance  (left of the Peet's Coffee)
TEAMS!   The Pavilion Staff will be opening the upper entrance for a short while in the morning  (accessible via a ramp) for us – so no stairs needed to get to the Team Check-in / Pit Area.    Click on picture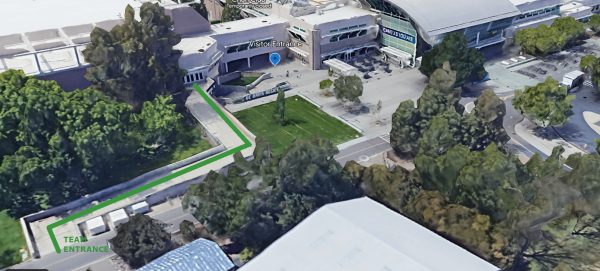 UPDATED 3/22: ARC Pavilion Map – we will be on the top floor (above sections 220/221).
Timing of this Festival is now "finalized" – though schedule can vary due to the overlap with the FRC event.
Volunteers show up :  9am
Teams show up:  9:40am
Ready with Pit Displays:  10am
Awards:   12:15pm
Festival expected to complete 1:30pm
Please wear Closed Toe & Closed Heel Shoes
Bring Safety Glasses if you can for each person coming in order to have the opportunity to visit with the FIRST Robotics Competition teams in their Team Pit area.
Parking is in a paid lot  – two options
UPDATED 3/22: 
1.   Pre-Purchase (discounted)
Attendees can buy permits online with Visa or MasterCard at UC Davis Transportation Services https://ucdavis.aimsparking.com/aimsparking.com
Click on SPECIAL EVENT PARKING and click to agree to terms of service
Select UNIVERSITY CENTER EVENTS
Select FIRST Robotics Competition event for the first date you want to purchase.
Follow steps to choose the permit and add a vehicle
In the cart screen, The permits will be available for pre-purchase through 3/26 at $12.50 per day.
For those attending multiple days, please purchase for each day in a separate order
2.   Same Day Purchase
Attendees will need to do so via App or Kiosk    https://taps.ucdavis.edu/visitor
$15 per day and advise using the application (Park Mobile)
No outside foods/beverages will be allowed in the venue – the event center security will check all bags and containers.  There will be concessions available to purchase.
Event is full – team registration is closed
-> Learn about SuperPOWERED Challenge Resources:   Overview
EVENT VOLUNTEERS:
14+ Volunteer slots are available
A person can do more than 1 role (if times are mostly non-overlapping).
All training/instruction given on day of event – so no pre-reading or studying needed ahead of time!
All volunteers need to be 14 years old / HS or older
Team affiliated volunteers can fill any role (ie there are no restrictions as there are in the Northern California FIRST LEGO League Challenge or Northern California FIRST Tech Challenge programs)
6 volunteers – Reviewer :    9:00am-1:30pm
1 volunteer – Lead Reviewer : 8:30am-1:30pm
2 volunteers – Team Activities:  9:30am-12:30pm
1 volunteers – Team Checkin: 9:00am-10:00am
1 volunteers – Volunteer Checkin: 8:30am-10:30am
2 volunteers – Team Queuer:   9:30am-12:30pm
1 volunteer – Photographer :   8:30am-1:30pm
If a particular role does not show up in the FIRST volunteer system, it is most likely that the position is fully staffed and no additional volunteers are needed for that specific role.  If you have any questions about this,  feel free to email Playing At Learning – the local NorCal FIRST partner at volunteer@playingatlearning.org
Add this event to your Google calendar

Add this event to your Outlook (ics) calendar iCal
All Related Events